Match Details:-
Mumbai Premier League 2019, 4th Match
NaMo Bandra Blasters vs Arcs Andheri
Date:- 15th May 2019, 07:30 PM IST
Venue:- Wankhede Stadium, Mumbai
Fantasy Preview:-
ARCS Andheri started their T20 Mumbai campaign with a disappointing loss against SoBo Supersonics in the second match of the League. The Jay Bista captained Supersonics set a target of 189 runs with the help of a beautiful 96 runs off 49 balls by Parag Khanapurkar. Counting the matches from last season, ARCS Andheri are now at a 5 match losing streak.
ARCS will now take on NaMo Bandra Blasters on 15th May. This will be the inaugural game for the Bandra Blasters. Having placed 4th last season, they look to step up their game with their captain Shreyas Iyer and wicket-keeping sensation Eknath Kerkar. This is the 2nd out of the 5 inter-group matches ARCS Andheri will be playing this season.
ARCS Andheri vs NaMo Bandra Blasters will be the 4th Match of the league and will be played at Wankhede Stadium in Mumbai. The game is scheduled to start at 7:30 PM IST.
Squads:-
ARCS Andheri Squad:-
Akhil Herwadkar, Kevin Almeida, Praful Waghela, Tanmay Mishra, Amogh Bhatkal, Azhar Ansari, Gaurav Jathar, Iqbal Abdulla, Kadir Patel, Pankaj Jaiswal, Shubham Ranjane, Vaidik Murkar, Sufiyan Shaikh, Sumit Meher, Ankur Singh, Atharva Poojari, Salil Agharkar, Tushar Deshpande, Vineet Sinha
Namo Bandra Blasters Squad:-
Nikhil Patil, Shreyas Iyer, Shrideep Mangela, Aditya Dhumal, Rohit Kambli, Sagar Chhabria, Saksham Jha, Siddharth Chitnis, Sujit Haravi, Sujit Nayak, Yash Malap, Eknath Kerkar, Prasad Pawar, Atul Singh, Karsh Kothari, Nikhil Date, Siddharth Sharma, Uzair Khan
Please Note:- Dream X1 Team will be only provided once the lineups are out.
My Dream X1 Team(Lineups not announced yet)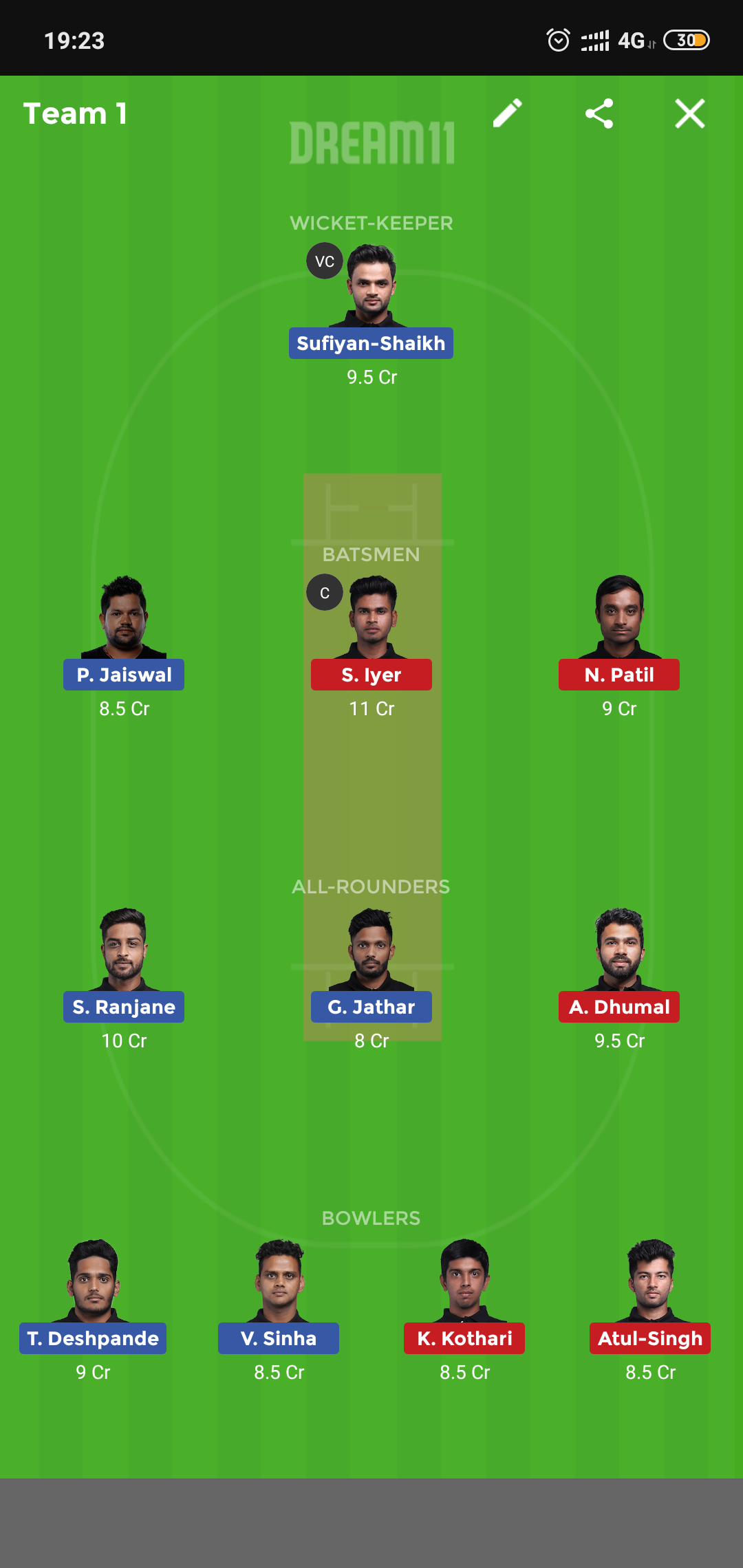 Will be Provided Soon.