Match Details:-
Mumbai T20 League, 2019
SoBo SuperSonics vs Aakash Tigers MWS
Date:- 18th May 2019, 07:30 PM IST
Venue:- Wankhede Stadium, Mumbai
Fantasy Preview:-
Table toppers SoBo Supersonics are in a good form winning both of their encounters. In the last match, They defeated Triumphs Knights by 4 wickets. Bowling first, Deepak Shetty took three wicket-haul while Vaibhav Mali took two scalps to restrict Knights at 143. Chasing the target, Hersh Tank played a crucial knock of 47 runs and was supported by handy contributions from Bista, Usmani, Parag, and Nigade to successfully chase the target. They will be determined to continue the winning momentum and defeat Aakash Tigers.
Aakash Tigers have won one and lost one encounter yet in the season. They lost their last match against Eagle Thane Strikers by 6 wickets. Batting first, Aakarshit Gomel gave a good start to the team scoring 38 runs and was supported by Pawar and Tendulkar. The middle order failed to capitalize on start but a 24-ball 36 from Mulani led them to a total of 136. Defending the target, Kulkarni and Mulani bowled well but could not defend the target for their team. Aakash Tigers will come to all guns blazing to give a tough challenge to inform Supersonics team.
Probable Playing XI:
AT:
Aakarshit Gomel, Kaustubh Pawar, Arjun Tendulkar, Siddharth Akre, Doraiswamy Subramanian (wk), Shams Mulani, Dhawal Kulkarni (c), Y Pawar/Bhavin Thakkar/S Shedge, N Katakdhond, Anjdeep Lad, Minad Manjrekar/S Dsouza.
SS:
Hersh Tank, Jay Gokul Bista (c), Parag Khanapurkar, Mansingh Nigade, Yogesh Takawale (wk), Adeeb Usmani, Rohan Raje, Vaibhav Mali, Dhrumil Matkar, Badrey Alam, Deepak Shetty.
Please Note:- Dream X1 Team will be provided only once the lineups are out.
My Dream X1 Team:-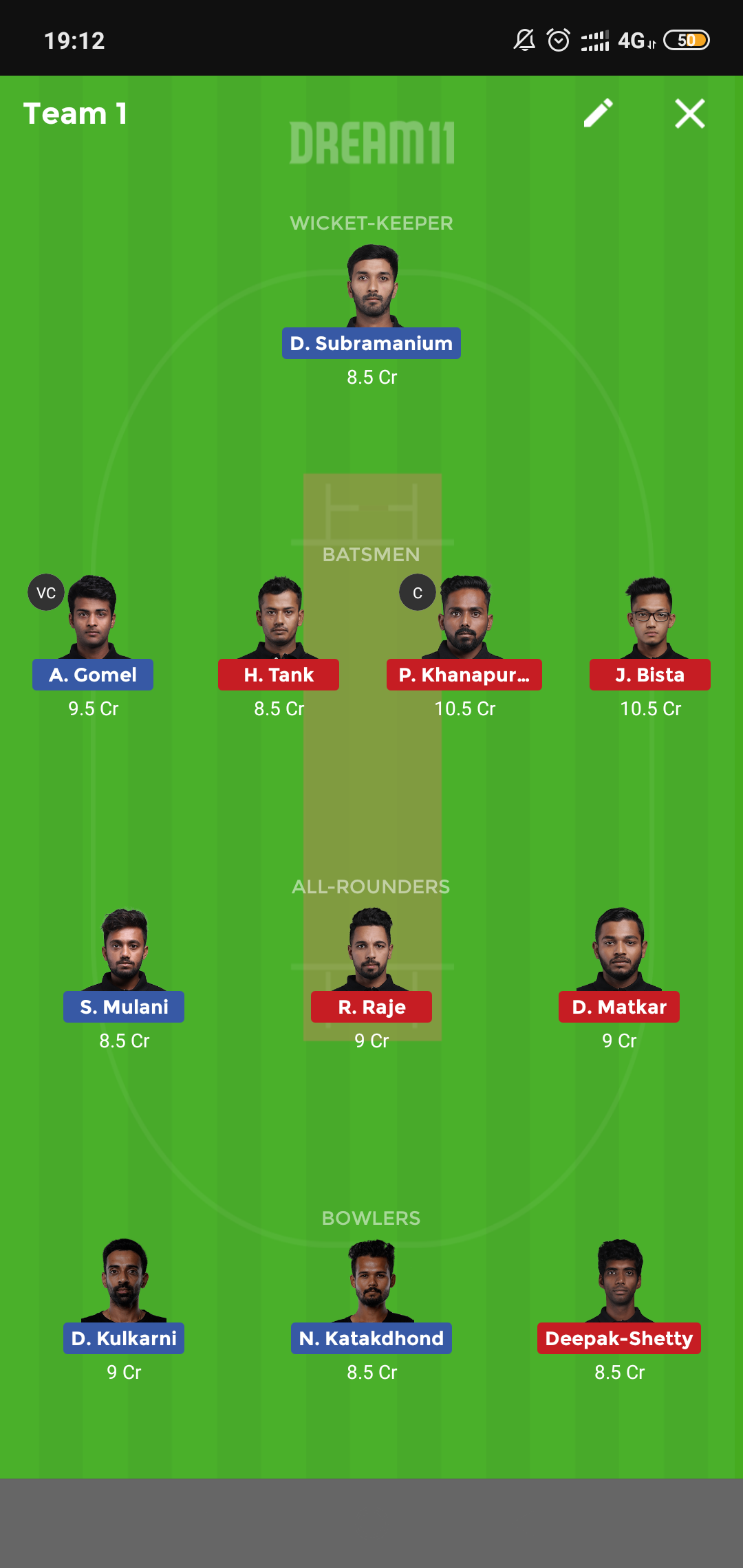 Will be Provided Soon.
Telegram:- @TheElevenGods