Match Details:-
Saurashtra Premier League, 2nd Match
Sorath Lions vs Zalawad Royals
Date:- 15th May 2019, 07:30 PM IST
Venue:- Saurashtra Cricket Stadium, Rajkot
Fantasy Preview:-
Sorath Lions clash against Zalwad Royals which will be the second match of the Saurashtra Premier League 2019. This will be the debut match for both the teams who represent rising talent. The league should help bring domestic cricket to the limelight while giving the players a stage to show their skills.
Currently, there isn't a lot of information available considering this is debut match for both these teams in a newly formed league. There are a total of five teams playing in the Saurashtra Premier League. The teams are named on historic areas of Saurashtra.
Saurashtra Premier League will be played at Saurashtra Cricket Association Stadium in Rajkot. It is scheduled for 15th May at 07:30 PM IST.
Squads:-
Sorath Lions:-
Sagar Jogyani D (c, wk), Chirag Jani S (vc), Dharmendra Jadeja A, Chetan Sakariya K, Divyaraj Chauhan M, Tarang Gohel H, Aryandevsingh Jhala, Himalaya Barad R, Kevin Jivrajani S, Deepraj Chudasama S, Pranav Kariya A, Dhavalraj Jadeja, Prabhu Sindhav, Bhavyesh Donga M, Vaibhav Sheth, Ankit Patel, Satyajeet Gohil
Zalawad Royals:-
Cheteswar Pujara (c), Sheldon Jackson P (wk, vc), Prerak Mankad M, Samarth Vyas B, Jay Chauhan M, Sunil Yadav H, Devang Karamta D, Jyot Chhaya B, Kishan Kugasiya S, Mohsin Dodia A, Vishal Joshi, Harnish Trivedi, Tarang Chhatrola, Karan Patel K, Sachin Mevada R, Vipul Makwana, Prasham Rajdev, Aniruddh Chaturvedi
Please Note:- Dream X1 Team will be provided once the lineups are out.
My Dream X1 Team(Lineups not available)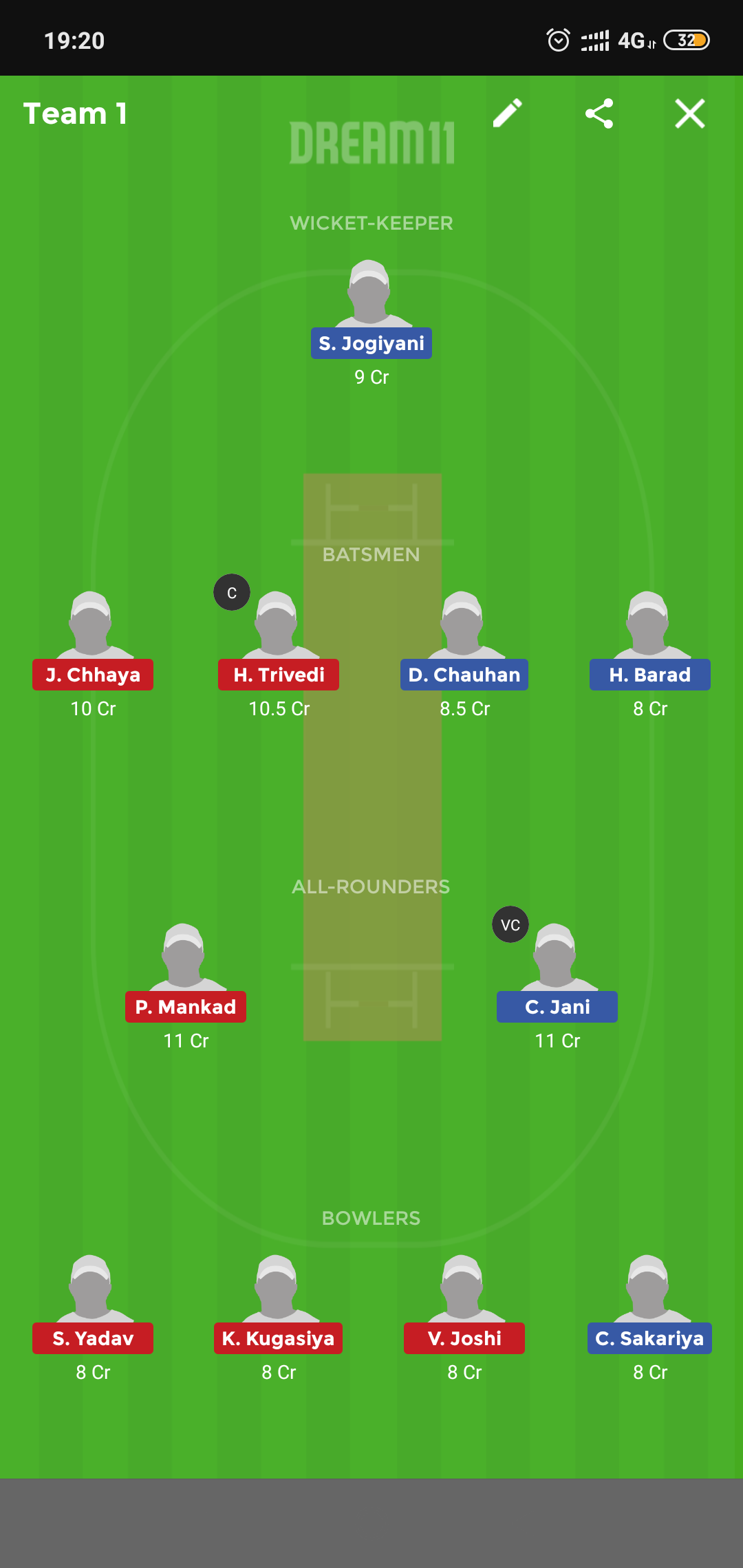 Will be Provided Soon.