Match details:
Tournament Name:  South Asian T20
Venue: Tribhuvan University International Cricket Ground, Kirtipu
Date: 5th December 2019
Time: 8:45 pm IST
Preview:
Nepal team is performing poorly from the last 1 year but they are expected to win this match easily. Paras Khadka, Dipendra Singh Airee, and Gyanendra Malla are their most important batsmen. Paras Khadka is in good form while the recent form of Gyanendra Malla is not good. Dipendra Airee played a magnificent knock of 72 in the last match but he will get very little chance to bat. Binod Bhandari, Pawan Sarraf, and Arif Sheikh are also decent batsmen. KC Karan and Sompal Kami will do late hitting duty.
Sompal Kami, A Bohara and KC Karan will lead the pace attack. All are very good bowlers. KC Karan is a wicket-taking bowler and is in terrific form, he will bowl at the death along with Avinash Bohara. Lalit Rajbanshi, Pawan Sarraf and Sushan Bhari will lead the spin attack of the team while Paras Khadka will assist him. Rajbanshi is their main spinner while rest are average spinners. Pawan Sarraf took 2 wickets in the last match. Lalit Rajbanshi took a 4 wicket haul on this ground along with Pawan Sarraf just 1 month against MCC.
Bhutan is a very weak team and is expected to lose this match easily. S Pradhan and Tenzin Wangchuk are expected to come back in the playing 11. Both are good allrounders. J Singye and T Jamtsho are their most important players.  S Tobgay, MR Dorji and T Singye are also their good players. Only R Dorji(22) crossed 10 run mark in the first match. J Singye(83), T Wangchung(risky)(53), T Jamtsho(56) and R Dorji(32) were their main scorers in the last series. T Jamtsho, T Singye and T Wangchung(risky) will lead the pace attack of the team. T Singye and T Jamtsho took 1 wicket each in the last match, J Singye will lead the spin attack of the team while Snam Tobgay and R Dorji will assist them.
Weather report:
The weather is expected to be hot and sunny and it will remain the same throughout the day. There is no sign of rain.
Pitch  report:
Pitch is expected neutral. Spinners generally get good support here.
Probable playing XI:
Bhutan:
Tobden Singye, Tenzin Wangchuk Jr, Jigme Singye, Mikyo R Dorji, Snam Tobgay, Thinley Jamtsho, J Dorji/Tenzin Wangchuk, Suprit Pradhan/S Chophel, Kesang Nima, K Dorji, J Thinley
Nepal:

Paras Khadka, G Malla, Aarif Sheikh, Dipendra Singh Airee, Binod Bhandari, Pawan Sarraf, Sushan Bhari, KC Karan, Sompal Kami, Lalit Rajbanshi, Abinash Bohara
Top picks:
Gyanendra Malla: He is a very good batsman and is expected to score big against a weak bowling attack.
Lalit Rajbansi: He is the main spinner of the team and can take many wickets on this spin-friendly track. He took a 4 wicket haul on this pitch in the 2nd last match.
Paras Khadka: He is a good hitter of the ball and is the best batsman of his team. He can even bowl some overs also as he is a good part-time spinner.
Karan KC: He is a very good all-rounder. He can send the ball a long distance and can take timely wickets for his team. He was the highest wicket-taker of the team in the World Cup Qualifier.
Jigme Singye: He is the best player in his team. He can bowl 4 overs and is a good batsman also.
Captaincy options:
Small leagues: Paras Khadka, KC Karan, Lalit Rajbansi, G Malla
Grand leagues: Pawan Sarraf, S Kami, Avinash Bohara (Small leagues captain can be used in grand leagues, bowlers are always good captains for grand leagues)
Dream XI team:
Note: Final team will be updated after the announcement of the playing11.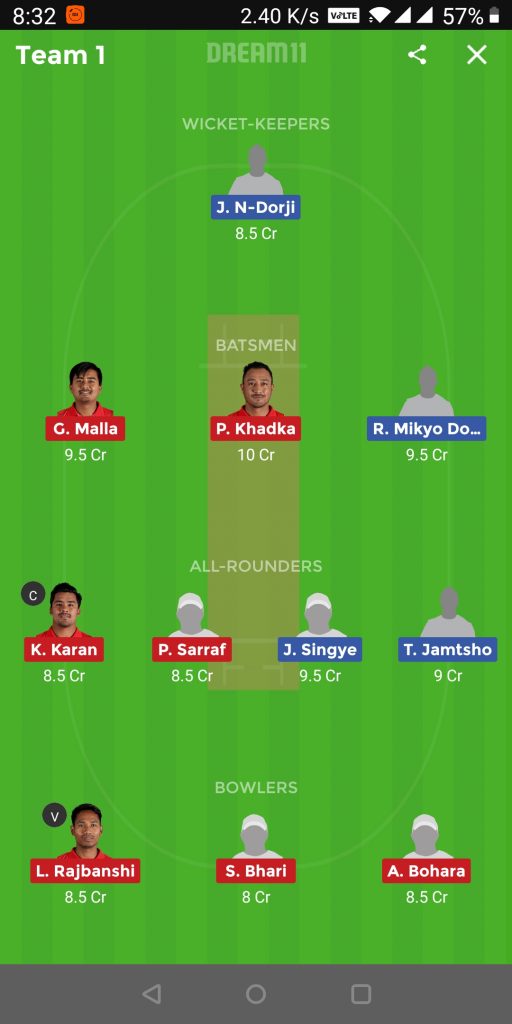 Fantasy tips:
In wicketkeeper, Binod Bhandari will give you more points but go with him only if Nepal bats first otherwise you can go with wicketkeeper of Bhutan. Make team by assuming a one-sided victory of Nepal. Take 7 players of Nepal and 4 players from the Bhutan team. Rotate captain and vice-captain between bowlers and allrounders of Nepal for the Grand League team. If Nepal bats 2nd then don't select batsmen after no.3.
Disclaimer: The views expressed here are of the author and are not a reflection of the actual points you might earn