The thrilling end to semi finals is happening tonight between Bangalore Rhinos Vs Diler Delhi.
Head to Head stat : During Match Match #31:Diler Delhi was fortunate to win over Bangalore Rhinos(48-45)
Prediction :  Delhi to win
Points Table and Win Loss Record of Zone A and Zone B:
Diler Dilli Preview:
Performance History:
Match #37:Diler Delhi lost a close match against Pune Pride(36-37)
Match #31:Diler Delhi was fortunate to win over Bangalore Rhinos(48-45)
Match #25:Diler Delhi won a closely fought match against Haryana Heros(40-35)
Match #23:Diler Delhi won over Telugu Bulls(40-37)
Match #19:Diler Delhi easily Won against Mumbai Che Raje(45-36)
Match #15:Diler Dilli won over Chennai Challengers (49-37)
Match #11:Diler Dilli easily defeated out of form Telugu Bulls (40-31)
Match #7: Diler Dilli vs Mumbai Che Raje (56- 35),Match was played, but tech committee awarded one point to each team
Match #3: Diler Dilli had a thumping victory against Chennai Challengers with a score line of (52- 30)
Squad:
Sunil Jaypal, P Aruna Chalam, Pratik Suresh, Shashidar YD, Chandra Bhushan Singh, K Naveen, Deepak Sharma, Vinod Kumar, Pareekshith A Suvarna, Hardeep Singh, R Ramesh, Parmod Kumar, Pardeep, Mukesh Jaglan, Pankaj Singh, Jitendre Kumar, Vipul and Amit Tomar and Parvinder.
Fantasy Game Changers:  Sunil Jaypal, Pankaj
Fantasy Game Standards : Sandeep Chhillar,Sunny Malik,Naveen\Hardeep
Fantasy Credit Savers: Vinod ,Vipul 
Bengaluru Rhinos Preview:
Performance till Now:
Match #34:Bangalore won a close match against Mumbai(31-36)
Match #31:Bangalore Rhinos unfortunately lost to Diler Delhi(45-48)
Match #28:Bangalore Rhinos handed Huge defeat to Telugu Bulls(51-20)
Match #22:Bangalore Rhinos had a Tie with Haryana Heros (36-36)
Match #18:Pune Pride won against Bangalore Rhinos (40-33)
Match #14: Bengaluru Rhinos lost to Pondicherry Predators (31-40)
Match #9: Bangalore Rhinos won a close game with Haryana Heroes(41-47)
Match #6: Bengaluru Rhinos lost a close game against Pune Pride(32-29)
Match #2: Bengaluru Rhinos Won against Pondicherry Predators (39- 32)
Squad:
Arumugam, Vipin Malik, Manoj Kumar, G Ambeswaran, Narendra Kumar, Vishal, Pawan, Ishu Sharma, Vaibhav Shivaji Kadam, Gokul Krishnan R, Kuldeep, M Mathan Kumar, Gurmeet Singh, Sandeep Kumar, Lakan Varkiya, Chiranjeevi, Ravinder and Ajit Kumar PN
Fantasy Game Changers:  Vishal,Vipin, Manoj Kumar
Fantasy Game Standards : Ambeswaran ,Varkiya,Arumugam
Fantasy Credit Savers:Varkiya
Sample Reference Team with updated starting  Lineups: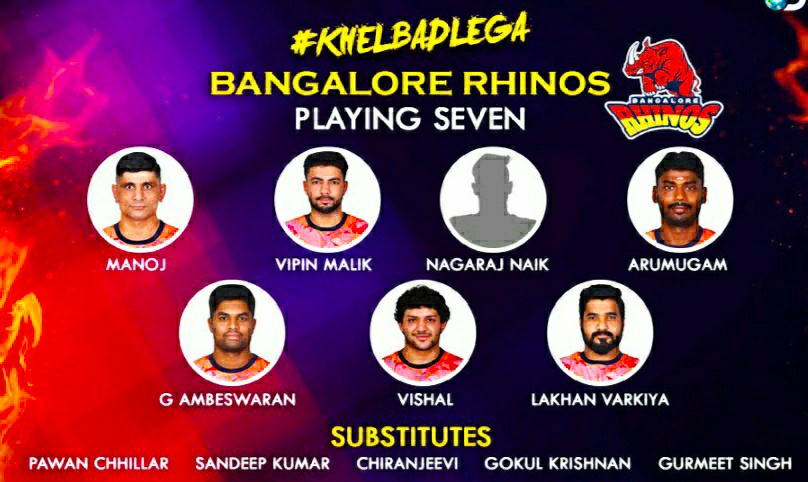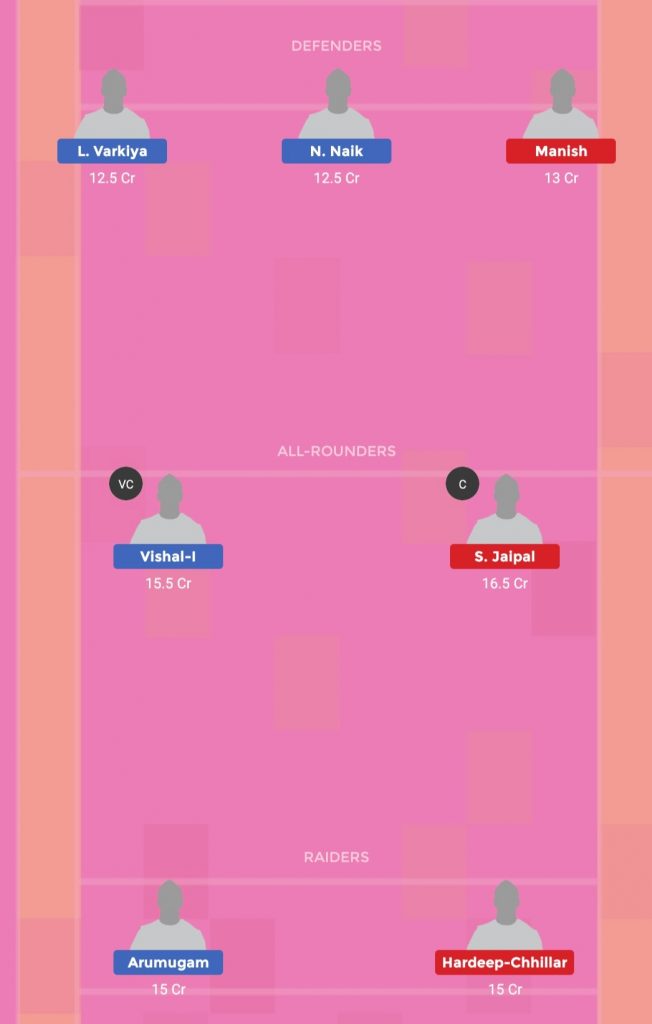 Cheers!!!