Match details:
Fixture: Argentina vs France
Date & Time: Monday 13th September – 5.30 PM IST
Venue: Wukesong Sports Arena, Beijing
Preview:
Argentina clinched a victory over Serbia in the quarter-finals and secured a berth in the semifinals, while France with an impressive show rallied against the USA and qualify for the semifinals spot. Fournier and Gobert have been excellent for France are starting to look medal-worthy for the France team. Coming to the Argentina team, Campazzo who finished with 18 points and 12 assists and Scola with 20 points are the main players. The last time these two teams clashed in the World Championships was in 2006 when Argentina handed an 80-70 defeat to France. Rudy Gobert registered a double-double, 21 points, and 16 rebounds, while Evan Fournier ended up with a team-high 22 points against the USA. Both teams have faced 2 head to head recorded matches in the FIBA Basketball World Cup and France had won those two matches.
Matchups:
Campazzo vs Ntilikina(Strong for Campazzo)
Fournier vs Garino(Strong for Fournier)
Batum vs Deck
Scola vs Baye
Gobert vs Delia(Strong for Gobert)
Key Players:
In the last 6 games played, Luis Scola is posting majestic averages of 17.8 points and 7.3 rebounds per game while shooting over 46% from the outside of the field. 
Campazzo is another player who is facilitating 6+ assists per game and 10 points per game and has started the last game and cloacked 30 minutes.
Rudy Gobert with his defensive end averaging 2.3 blocks per game and is making his presence felt with a near double-double average of 12.7 points and 9.7 rebounds. He had the best conversion rate with 66% from the field. 
Probables Starters
Argentina: Patricio Garino, Facundo Campazzo, Marcos Delia, Luis Scola, Nicolas Brussino
France: Rudy Gobert, Amath M'Baye, Nicolas Batum, Evan Fournier, Frank Ntilikina
Bench:
Argentina: Luca Vildoza, Lucio Redivo, Tayavek Gallizi, Agustin Caffaro, Nico Laprovittola, Gabriel Deck, Maximo Fjellerup
France: Nando de Colo, Andrew Albicy, Vincent Poirer, Mathias Lessort, Axel Toupane
For more Updates join our channel:
https://t.me/joinchat/AAAAAEllUOL1H0wh69hPaQ
Dream11 team: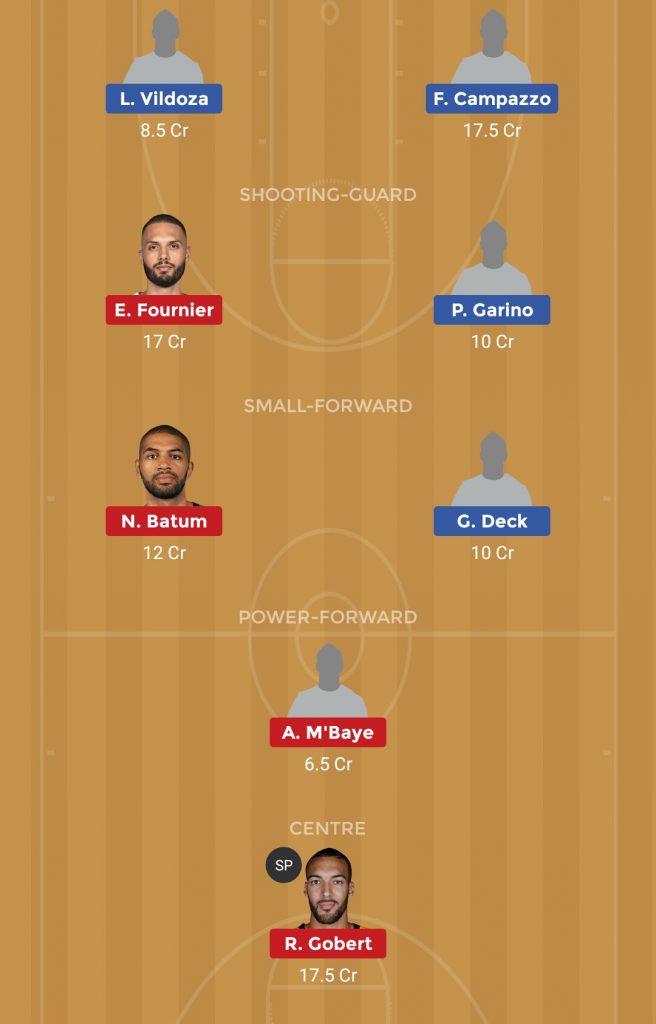 Disclaimer: The views expressed here are of the author and is not a reflection of the actual points you might earn.