Match details:
FIBA World Cup Semi-Final 1 – Spain v Australia
Date & Time: Monday 13th September – 1.30 PM, IST
Venue: Wukesong Sports Arena, Beijing
Preview:
Australia finished on top of Group H, while Spain finished on top of Group E. Heading into the semifinals, both Australia and Spain are undefeated so far. They had met last in the World Championship where Spain clinched the victory against Australia. Patty Mills from the Australian team and Rubio from the Spain team are the best shooters from both teams. Rubio is a more consistent scoring threat who is averaging 2.8 points per game more than Mills. Rubio is the better facilitator, averaging 3.1 assists per game more than Mills. Their averages are close, but Rubio grabs a few more rebounds, eclipsing Mills's total by 1.4 boards per game. These are stats at the regular season where Mills played for Spurs coming off from the bench and Rubio as a starter for Jazz.
Matchups:
Mills vs Rubio
Dellavedova vs Fernandez
Ingles vs Hernangomez
Baynes vs Claver
Bogut vs Gasol
Facts Behind FIBA Worldcup for this game:
Mills has been incredible for the Boomers averaging 21.8 points, 4.3 assists and 2.0 rebounds per game.
Rubio has been a team-high scorer with averaging 14.6 points and 4.8 assists to go along with 3.6 rebounds per game.
Rubio is known as Darkhouse MVP Star.
Bogut is the player who is cloaking 17 min per game and managing to bring up 20 fantasy points.
Key Players:
Spain – Ricky Rubio
In the 6 games played, Rubio is averaging 15.3 points, 3.8 rebounds, and 5.5 assists per game and is maintaining 47% from outside of the arc. He is a ball stealer averaging 1.3 steals per game.
Australia – Patty Mills
Mills' blistering an average of 22.2 points per game on 51.2% shooting from outside of the arc. He is the main player for Australia averaging 32 minutes per game.
Probable Starters:
Spain: Rudy Fernandez, Ricky Rubio, Victor Claver, Marc Gasol, Juancho Hernangomez
Australia: Patty Mills, Joe Ingles, Matthew Dellavedova, Aron Baynes, Jock Landale
For more Updates join our channel:
https://t.me/joinchat/AAAAAEllUOL1H0wh69hPaQ
Dream11 team: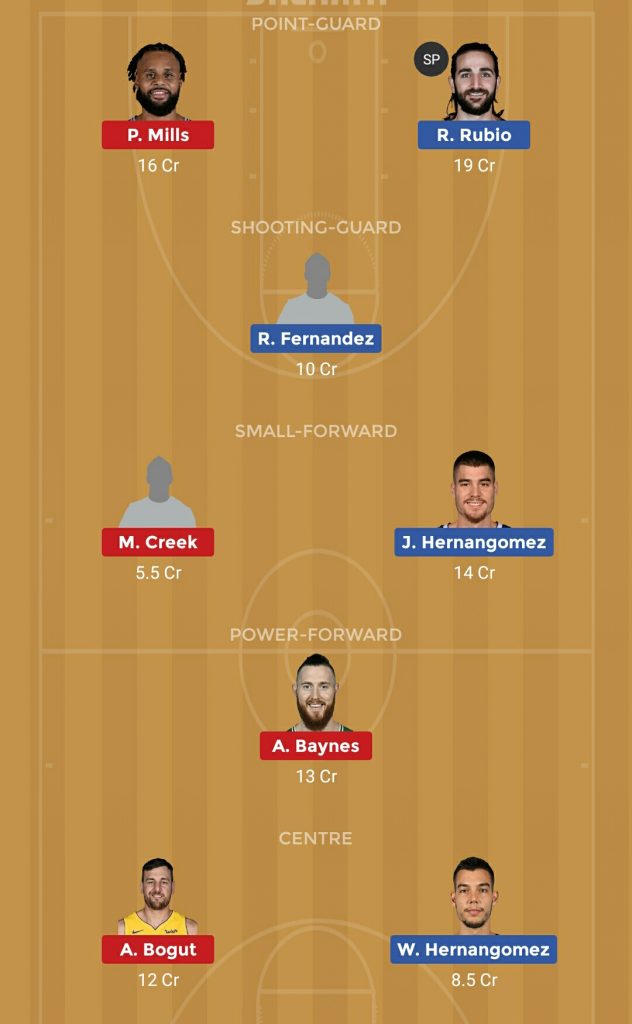 Disclaimer: The views expressed here are of the author and is not a reflection of the actual points you might earn.