Match details
FIBA World Cup: Spain v Australia 
Venue: Wukesong Sport Arena, Beijing, China
Date: Friday, 13 September 2019
Time: 01:30 p.m.
Preview
The semi-finals will commence tomorrow at the Wukesong Sport Arena, where Spain will face Argentina for the final time in this World Cup. They have faced each other before in the World Cup at different occasions before but this time one will face elimination by the hands of the other. This is an unexpected matchup as none of the experts anticipated Australia to make it this far.
Spain: They are one of the best teams in the world and they have established that pretty well by their dynamic run of games in this tournament. They defeated Poland in the quarter-finals and made it to the semi-finals. They are considered one of those teams which are well deserving of the position they have achieved.
Australia: The Australian team has left everyone awestruck by their explosive performance in this World Cup. They have done something which most of the teams from that zone have failed to do so far. They have reached the semi-finals of the FIBA World Cup which something the entire Asian zone should be proud of.
Possible Starters
Spain: Marc Gasol, Ricky Rubio, Victor Claver, Rudy Fernandez, Juancho Hernangomez
Australia: Matthew Dellavedova, Patty Mills, Joe Ingles, Jock Landale, Aron Baynes
Top picks
Matthew Dellavedova: He is a very balanced player who will be in the starting 5. He is a great shooter and his minutes are safe.
Joe Ingles: He will get 30+ minutes on the court and he scores a lot through assists, rebounds and steals besides just shoots. He is great in both offence and defence.
Marc Gasol: He is good on both offence and defence. He is not an excellent shooter but he makes up for it through steals, rebounds and assists. His minutes are pretty safe and he can score a decent amount of fantasy points.
Ricky Rubio: His minutes are safe and he is an excellent offensive player. He goes in for shoots a with a high success rate of 50% but he mainly scores through 2 pointers and assists. He is also decent in defence and can rake up some steals as well.
Dream11 team
The given team is subject to change, please check for any updates shortly before the match.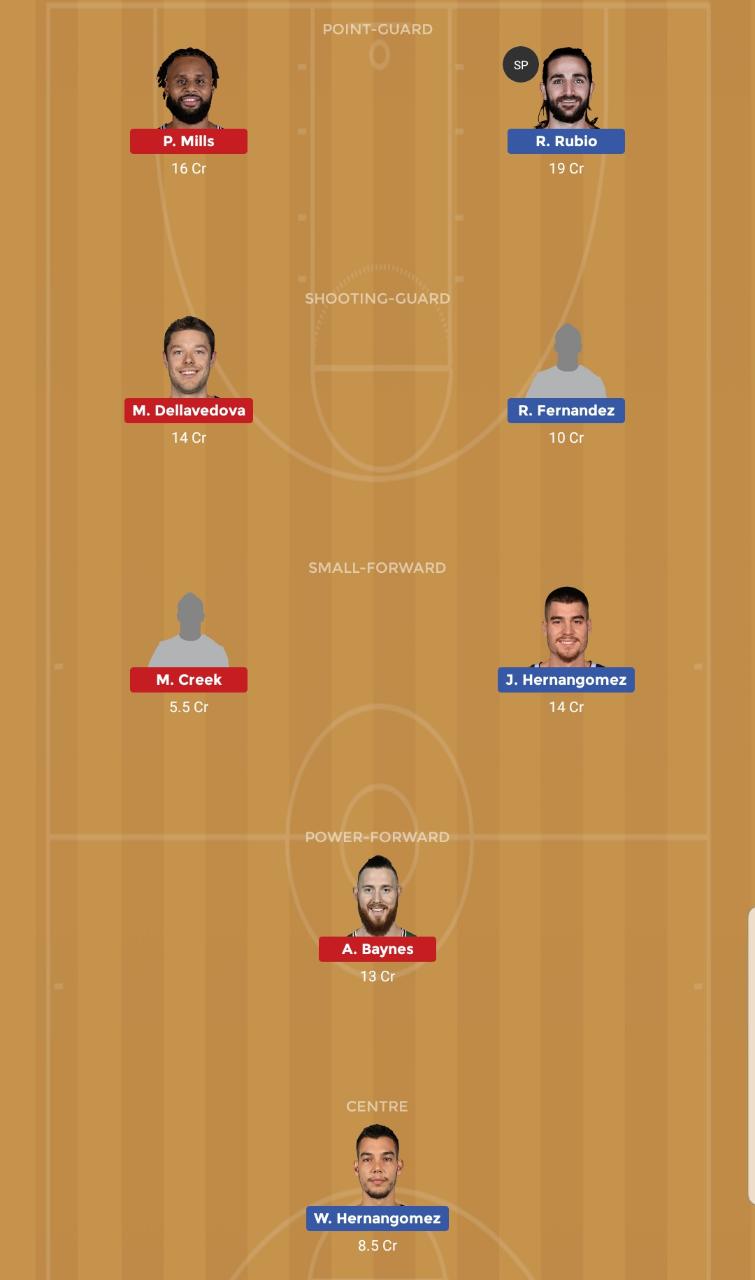 Disclaimer: The views expressed here are of the author and is not a reflection
of the actual points you might earn.