Teams to be updated after the toss
Match details:
NBA 2019-20
Staples Center, LA
11 November 2019
08:00 AM IST
Preview:
The Lakers are on a tear. They have won seven games in a row after losing their opening game to the Clippers. Their stars are in sync, and they are almost fully healthy with the hope that Rondo will also be coming along soon. They are formidable now and will be facing a Raptors team that is missing one of the best players.
The Raptors have suffered a small blow with the injury of K Lowry. They have had a solid start at 6-2 and are in a good place with the players they are suiting up. Many wrote them off in the light of Leonard leaving, but with the emergence of Siakam, the development of Anunoby and the continued growth of VanVleet, the Raptors are in a good place.
Injuries:
Lakers
R Rondo*
D Cousins
T Horton-Tucker
Raptors
K Lowry
S Ibaka*
P McCaw
*Day-to-day. Might play.
Probable lineup:
Lakers
A Bradley
D Green
L James
A Davis
J McGee
Raptors
F VanVleet
N Powel
O Anunoby
P Siakam
M Gasol
Top picks:
Lakers
Key players
A Davis (26.5 pts / 10.5 rebs / 1.1 stls / 3 blks): Davis will struggle in moments against the defensive-minded Raptors, but he will still be great. The presence of James allows Davis to roam freely on the offense and dominate more than he used to when he was on the Pelicans. What is even greater is his defense that is fuelling most of the Lakers wins.
L James (26.0 pts / 7.8 rebs / 11.0 asts / 1.4 sts): James is having the time of his life. He hasn't played with a big man as talented as Davis – someone who plays at an MVP candidate. James is playing like a 24-year-old, and incredibly at the age of 34 is leading the NBA in assists per game/
—
Raptors
Key players
P Siakam (27.9 pts / 9.3 rebs): Siakam has grown leaps and bounds. He is taking the reigns in the departure of Leonard. His increased numbers make him a candidate for the Most Improved Player once again. No one has won the award twice in the history of the NBA.
F VanVleet (15.1 pts / 7.4 asts / 1.3 sts): In the absence of Lowry who is injured, Van Vleet will get all the minutes and responsibility that Lowry usually had. VanVleet will be key in the game since the Raptors are a team that needs a point guard to run the offense smoothly.
X-factors
O Anunoby (13.8 pts / 6.6 rebs / 1.4 stls / 1.6 blks): Anunoby has replaced Siakam's responsibilities now that Siakam has had to step into Leonard's shoes. And Anunoby is doing a great job. Both offensively and defensively. 
Captaincy options:
A Davis (53.45 fantasy pts): Davis is the best fantasy player in the game. He is most certainly going to lead the game across multiple categories. The Raptors are a very good defensive team, but Davis has too much talent to be stopped from getting his numbers.
L James (53.31 fantasy pts): James is just as good an option for captaincy. He is as efficient as Davis and can get fantasy points in a hurry. He might struggle in moments against the solid defense of the Raptors, but will still make the numbers happen.
Dream11 team: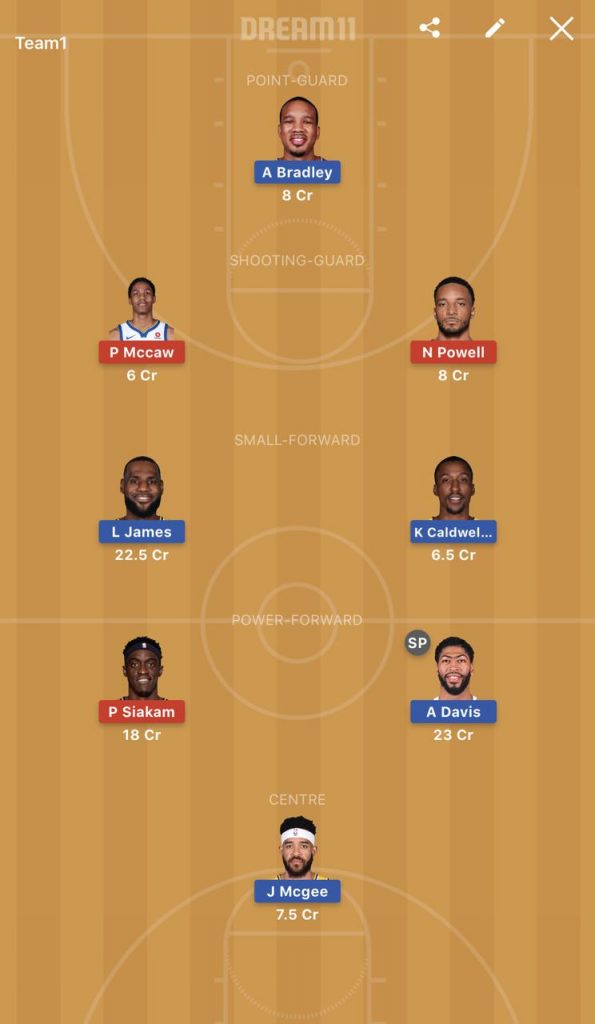 Disclaimer: The views expressed here are of the author and is not a reflection of the actual points you might earn.