Match Details:
Portland Trail Blazers vs Golden State Warriors
15th May 2019
NBA finals game-1
06.30 AM, IST
Venue: 
Match Preview:
The process to Select the team:
Way-1:
Historical Stats:
Curry vs Lillard:
Curry:( with Durant in the team)
29, 25, 32 points
7,8,2 assists
7,2,1 turnovers
Lillard:
21,40,29 points
3,5,8 assists
2,3,0 turnovers
Exceptional Stat:
Without Durant, Curry averaged extra 10 fantasy points. He is credit saver when compared to Lillard.
McCollum vs Thompson:
McCollum:
19,24,14,15 points
3,5,1,2
Thompson:(with Durant)
31,15,32,9 points
1,2,1,8(Changed their aspect in that match, Thompson provided more assists than Curry. He became a ball provider in that game.
Exceptional Stat:
Without Durant, Thompson averaged extra 8-10 fantasy points. He is credit saver when compared to McCollum.
STAT that will use in the usage bump of GL:
Kanter and Bogut. Both the selections are less due to outcome performances in the last series. Bogut was in the lineup. He was foul trouble in the last game which he played against the Rockets i.e. against the Capela to drim the shots. He was the best punt pick.
STAT OF BENCH PLAYERS:
The Blazers team NEWS:
Hood, Seth Curry, Turner. 
Minutes reduced players for the Blazers team:
Aminu and Harkless. They both have played just for 24 minutes in the last game of the series against the Nuggets. 
The Warriors team NEWS:
Bogut/ Looney/Bell/ Cook all the players didn't even crack for 20 minutes.
GAME CHANGERS:
Thomspon, Curry, Green, M
McCollum
CONSISTENT PLAYERS
GSW Probable Line-Up:
PG: Curry
SG: Thompson
SF: Iguodala
PF: Green
C: Bogut
Bench Corners: Looney, McKinnie, Livingston, Bell, Cook.
Blazers Probable Line-Up:
PG: Lillard
SG: McCollum
SF: Harkless
PF: Aminu
C: Kanter
Bench Corners: Collins, Hood, Turner, Seth Curry
BEST PICKS:
Curry, Lillard, McCollum, Thompson, Green, Iguodala
DIFFERENTIAL PICKS:
Kanter, Bogut, Hood
TEAM1: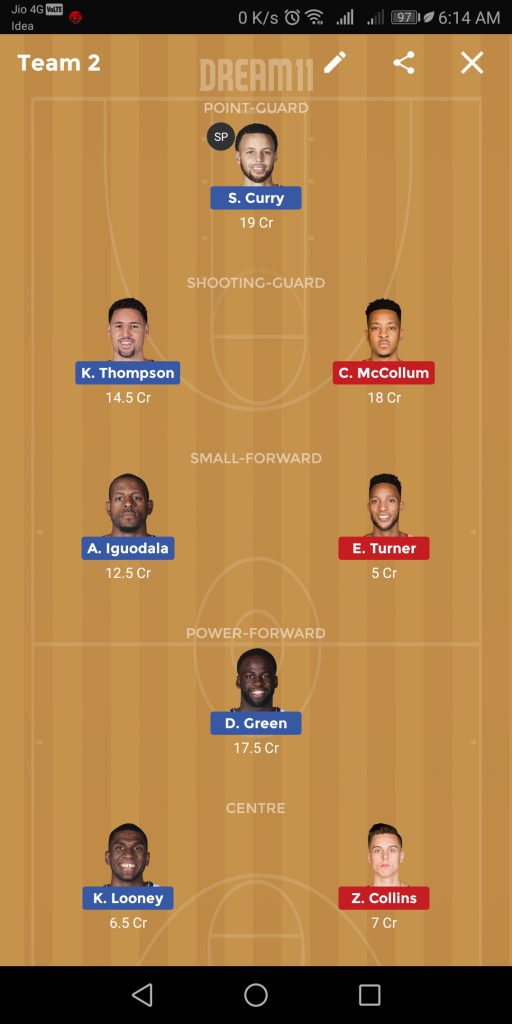 TEAM2(BACK UP TEAM)