Match details:
Serbia Women vs Brazil Women 
Hamamatsu, Japan
14th September 2019 01:30 pm IST
Preview:
The defending champions Serbia will face Brazil in their 1st match in this tournament. Serbia will look to continue their last year performance to defend their title. While Brazil will look to start well. Serbia announced their squad for this tournament. Even though their star players have important roles to play in some of Europe's top sides, Serbia is known as underachievers because of their losses in major tournaments. Brazil has strolled through the 2018 World Cup Qualifying, having 41  winning points from 18 qualifiers.
Top picks:
Serbia:
Maja Ognjenovic:
She is the experienced player who appeared in 239 matches and has a strike rate of 12.5 spikes and a strike rate of 1.29 blocks per game.
Stefana Veljkovic:
She has an experience of 181 matches with 325 spikes and 310 blocks.
Bjelica
The skipper has appeared in 119 games with a strike rate of 11.6 spikes and strike rate of 25.6 blocks.
Brazil:
Fabiana Claudino:
Brazil skipper is the main player in the team. She has 314 spikes and 293 blocks to her name. She is a must pick and will be a good captaincy choice.
Natalia Pereira:
Their 2nd top scorer in the team with 311 spikes and 295 blocks. She is a must pick in the roster.
Probable starters:
Serbia women:
Sara Lozo, Sladjana Mirkovic, Maja Savic, Bianka Busha, A Blejica
Brazil women:
Lorenne Teixeira, Macris Carnerio, Fabiana Claudino, Gabriela Candid, S Castro
Dream11 team: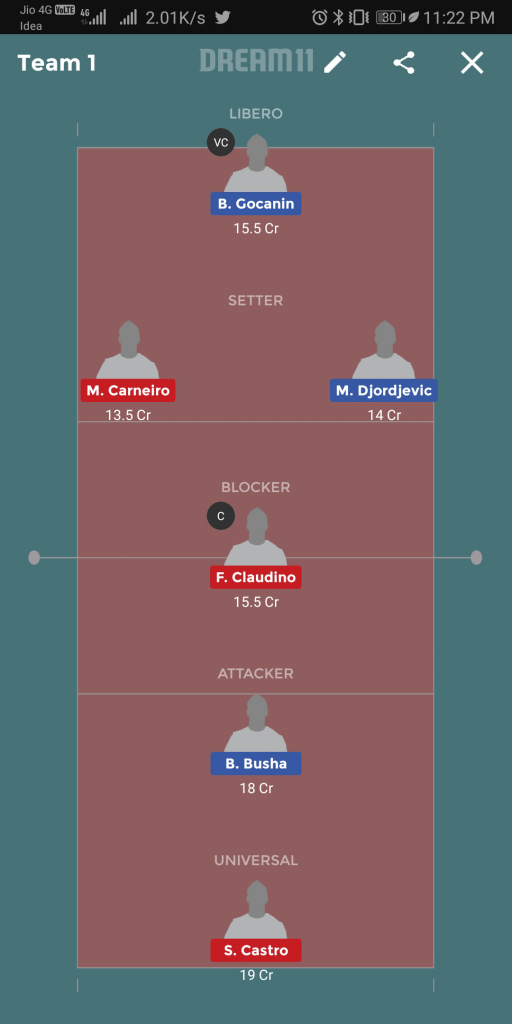 Disclaimer: The views expressed here are of the author and is not a reflection of the actual points you might earn.